Serpentine Sackler Gallery extension (2013), in London's Kensington Gardens
Images from:
http://manchesterhistory.net/architecture/2010/sacklerextension.html (Accessed 2/08/2017)
Information from:
http://www.zaha-hadid.com/interior-design/serpentine-sackler-gallery-2/ (Accessed 2/08/2017)
http://www.archdaily.com/433507/the-serpentine-sackler-gallery-zaha-hadid-architects (Accessed 2/08/2017)
https://www.dezeen.com/2013/09/25/serpentine-sackler-gallery-by-zaha-hadid/ (Accessed 2/08/2017)
Like the MAXXI Museum in Rome, this project combines old and new, in this case an historic building – a 19th century brick gunpowder store – and an undulating tensile structure designed by architect Zaha Hadid to be used as a café/restaurant and social space.
The extension is made of a glass-fibre textile and forms an organic-looking white canopy that 'grows' from the original building.
Zaha Hadid has used textiles architecturally also in other projects, for example in the temporary structure created for the JS Bach Chamber Music Hall in Manchester (2009) in which a continuous ribbon of translucent fabric stretched over a steel structure suspended from the ceiling and enveloped both performers and audience in a common, fluid space.
Many other architects and designers have  made an architectural use of textiles, both for temporary and permanent structures, even if not always with such beautiful results. The examples are many, so it's only possible to scrape the surface in this short post. These structures can be collectively named textile architecture.
At The Politecnico di Milano a Textile Architecture Network has been established in 2011 by a group of researchers whose main goal is that of sharing knowledge and promoting the development of lightweight constructions – tensile, inflatable systems, FRP in general – in architecture to improve the building environment from the quality and sustainability point of view (At: http://www.textilearchitecture.polimi.it/).
They also have a database of projects that show the state of the art of membrane and fabric architecture all over the world and that can be used by architects and engineers.
On the website of the German-Swiss-Latvian company MDT Membrane Design and Technique (At: https://www.mdt-tex.com/en/home/) I found an image with drawings of the basic ways in which textile structures can be designed to serve different purposes:
RIGID SYSTEMS
TRANSFORMABLE SYSTEM
OPEN SYSTEM
TEXTILE BUILDINGS
SECOND SKIN
BETWEEN BUILDINGS
ON FACADE
From: https://www.mdt-tex.com/en/textile-architecture/textile-architecture/ (Accessed 2/08/2017)
This is not 'art' or 'architecture' but it can be useful as a starting point for designing architectural membrane structures.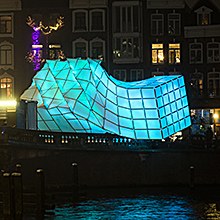 Eye Beacon pavilion, Amsterdam, designed by UNStudio, Amsterdam, partner of MDT-tex, is an example of their work.
The structure consists of two cube forms connected to one another by twisting surfaces. All surfaces of the pavilion are constructed from tensile textile modules that together create a pattern of openings and reveal glimpses of the interior. (At: https://www.mdt-tex.com/en/references/eye-beacon-pavilion/)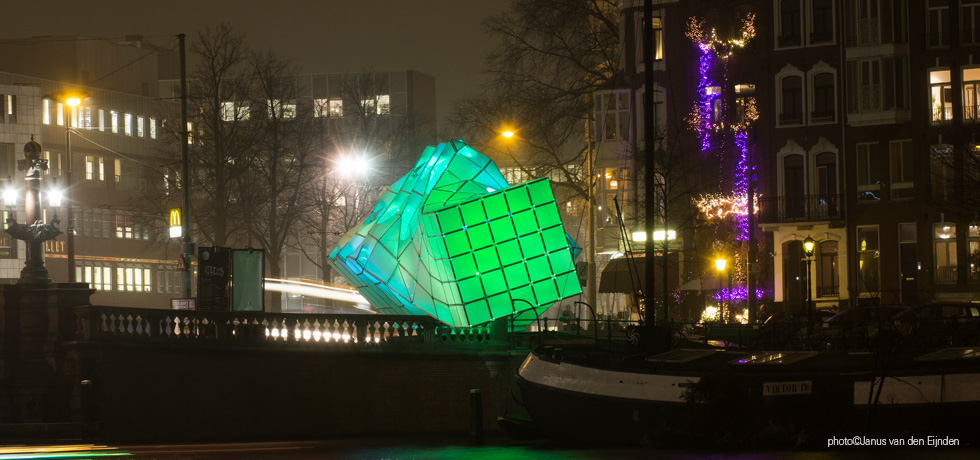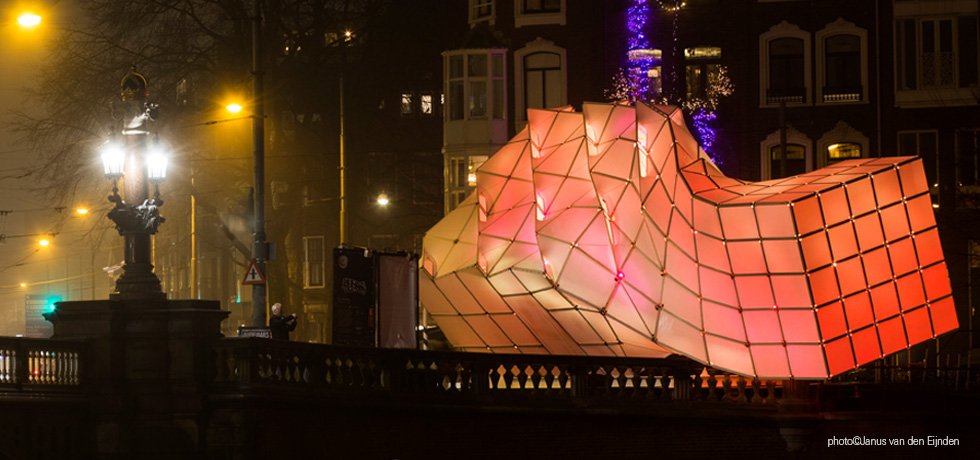 One of the great masters of tensile structures was the German architect Otto Frei (1925-2015) who was a pioneer in the use of lightweight tensile and membrane structures, including the roof of the Olympic Stadium in Munich for the 1972 Summer Olympics.
https://en.wikipedia.org/wiki/Frei_Otto
Photo from: https://commons.wikimedia.org/wiki/File:Munich_-_Frei_Otto_Tensed_structures_-_5320.jpg (Accessed 3/08/2017)
The Guardian has an interesting article on him, which explains how Otto Frei has inspired 'everything from the Millennium Dome to pleasure-domes in Kazakhstan and service stations all over the world.'
Image from: https://www.theguardian.com/artanddesign/gallery/2015/mar/11/architect-frei-ottos-best-creations-in-pictures
For his projects he often drew inspiration from the study of natural forms,
taking a great interest in the development of soap bubbles:
He studied also architectural primitive forms, from Mongolian yurts to tribal tepees:
His work has greatly influenced the work of several British architects who use tensile fabrics in their work, such as Richard Rogers' Millennium Dome
Image from: https://en.wikipedia.org/wiki/Millennium_Dome
or Michael Hopkins' Schlumberger Centre and many others.
Image from: https://en.wikipedia.org/wiki/Hopkins_Architects