Art key words
Source: Wilson, S. and Lack, J. (2008) The Tate Guide to Modern Art Terms. London: Tate Publishing
Assemblage – art made by assembling disparate elements (see also found object), the practice goes back to Cubism, it was the basis of Surrealist objects, became widespread in the 1950s and 1960s and is still extensively used for example by the Young British Artists.
Found object – readymade (Duchamp)
Montage – an assembly of images that relate to each other to create a single work or part of a work of art. More formal than a collage, it is usually based on a theme. Also used to describe experimentation in photography and film (Man Ray, Moholy-Nagy)
Collage – work of art in which pieces of paper, photographs, fabric and other ephemera are arranged and stuck down to a supporting surface, the term derives from the French words papier collé or découpage
Photomontage – a collage constructed from photographs that has often been used as a means of expressing political dissent. First used by the Dadaists, later adopted by the Surrealists and the Constructivist Rodchenko. Key exponents of the medium are John Heartfield and Peter Kennard (below)
Some photomontage artists
John Heartfield (born Helmut Herzfeld, 1891-1968)
Source: The J. Paul Getty Museum, 2006 exhibition Agitated Images: John Heartfield & German Photomontage, 1920–1938 At: http://www.getty.edu/art/exhibitions/heartfield/
Pioneer of modern photomontage. Worked in Germany and Czechoslovakia, 'he developed a unique method of appropriating and reusing photographs to powerful political effect …
The impact of Heartfield's images was so great that they helped transform photomontage into a powerful form of mass communication.'
'To compose his works, he chose recognizable press photographs of politicians or events from the mainstream illustrated press. He then disassembled and rearranged these images to radically alter their meaning '
Whoever Reads Bourgeois Newspapers Becomes Blind and Deaf: Away with These Stultifying Bandages!, 1930
© 2006 Artists Rights Society (ARS), New York / VG Bild-Kunst, Bon (left)
Adolf, the Superman, Swallows Gold and Spouts Tin, 1932
© 2006 Artists Rights Society (ARS), New York / VG Bild-Kunst, Bonn (right)
Also: https://en.wikipedia.org/wiki/John_Heartfield
Peter Kennard (British, 1949) 
Source: artist's website At: http://www.peterkennard.com/main/home_set.htm
From Peter Kennard's website: 'I hope this site will instigate debate about art, politics and society. It attempts to bring together different issues to stimulate the development of new forms of art that deal with everyday global themes.
To do this, feedback is vital, so please feel free to express yourself by entering the site forum, or you can contact me directly'
'That sense of ripping into an image, unveiling a surface, going through that surface into an unrevealed truth, is at the core of photomontage …The photojournalist goes out and takes the pictures; I sit in a room with the tools of my trade and try to pummel these pictures into revealing invisible connections, disconnecting them from direct representation into statement and argument … The point of my work is to use easily recognisable iconic images, but to render them unacceptable … After breaking them, to show new possibilities emerging in the cracks and splintered fragments of the old reality.'
Source: Protest and survive: why Peter Kennard is political dynamite by Richard Slocombe
1 May 2015 At: https://www.theguardian.com/artanddesign/2015/may/01/blair-selfie-peter-kennard-political-dynamite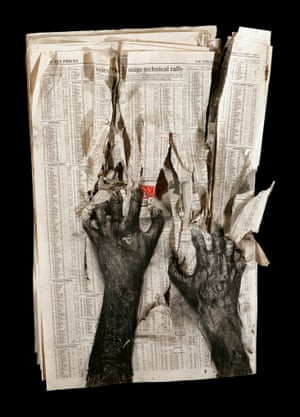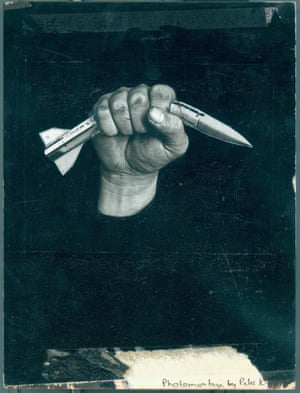 Newspaper 1 (1994) (left) and Crushed Missile (1980) (right) both by Peter Kennard
'With a career spanning almost 50 years, Peter Kennard is without doubt Britain's most important political artist and its leading practitioner of photomontage. His adoption of the medium in the late 1960s restored an association with radical politics, and drew inspiration from the anti-Nazi montages of John Heartfield in the 1930s.'
Source: Peter Kennard: A very unofficial war artist by Paul Kerley BBC News Magazine
14 May 2015
At: http://www.bbc.com/news/magazine-32706845
A very interesting interview with him on BBC, with video of his works
Hannah Höch (German, 1889 – 1978)
Source: https://en.wikipedia.org/wiki/Hannah_H%C3%B6ch
German Dada artist. Best known for her work of the Weimar period, she was one of the originators of photomontage. 'Höch's work existed to dismantle the fable and dichotomy that existed in the concept of the "New Woman": an energetic, professional and androgynous woman, who is ready to take their place as man's equal. Her interest in the topic was how the dichotomy was structured, as well as who structures social roles.'
Source: Hannah Höch: art's original punk by Brian Dillon 9 January 2014 At: https://www.theguardian.com/artanddesign/2014/jan/09/hannah-hoch-art-punk-whitechapel
'The Nazis branded her a degenerate and the dadaists tried to edge her out. But a new exhibition reveals Hannah Höch as a pioneer of photomontage and a feminist icon who took a kitchen knife to the glass ceiling …Höch claimed she had hit on the technique of photomontage while on a Baltic holiday with the married Hausmann in 1918; having come across mocked-up photos sent home by German soldiers, in which the young men's heads were superimposed on pictures of musketeers, they realised the power of cut-and-paste to "alienate" images.'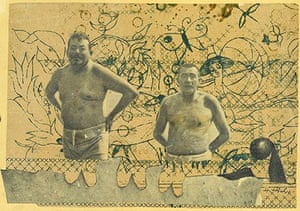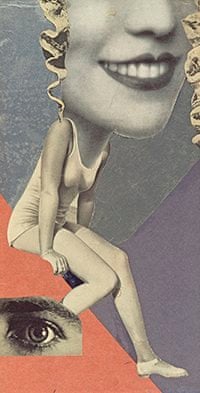 Staatshäupter (Heads of State), 1918-20. Photograph: Collection of IFA, Stuttgart
Für ein Fest gemacht (Made for a Party) :photomontage by Hannah Hoch, 1938 (Collection of IFA, Stuttgart)
Source: Hannah Hoch: The woman that art history forgot by Mark Hudson on 14 Jan 2014 At: http://www.telegraph.co.uk/culture/art/10545071/Hannah-Hoch-The-woman-that-art-history-forgot.html
Pioneering: untitled collage from 1930 by Hannah Hoch (detail) Photo: Museum für Kunst und Gewerbe, Hamburg /Maria Thrun
Martha Rosler (American, 1943)
Source: the artist's website at: http://www.martharosler.net/
'Martha Rosler works in video, photography, text, installation, and performance. Her work focuses on the public sphere, exploring issues from everyday life and the media to architecture and the built environment, especially as they affect women.'
'Rosler has for many years produced works on war and the national security climate, connecting life at home with the conduct of war abroad, in which her photomontage series played a critical part. She has also published several books of photographs, texts, and commentary on public space, ranging from airports and roads to housing and gentrification.'
House Beautiful: Bringing the War Home (1967-1972) (left) and House Beautiful:
Bringing the War Home, New Series (2004-2008) (right)
Source: Making Art in a World of Ferment: A Conversation with Martha Rosler by Nato Thompson Philadelphia, PA, USA and Martha Rosler New York, NY, USA
May 6, 2013
At http://creativetimereports.org/2013/05/06/nato-thompson-interviews-brooklyn-artist-activist-martha-rosler/
Martha Rosler, Cleaning the Drapes, from "Bringing the War Home: House Beautiful," 1967–72. Image courtesy the artist and Mitchell-Innes & Nash, New York.
"I was more interested in changing the world than changing the art world."
Source: Glossy Idealism on the Front Lines by Carol Kino on 5 September 2008
At: www.nytimes.com/2008/09/07/arts/design/07kino.html
'Point and Shoot' Mitchell-Innes and Nash